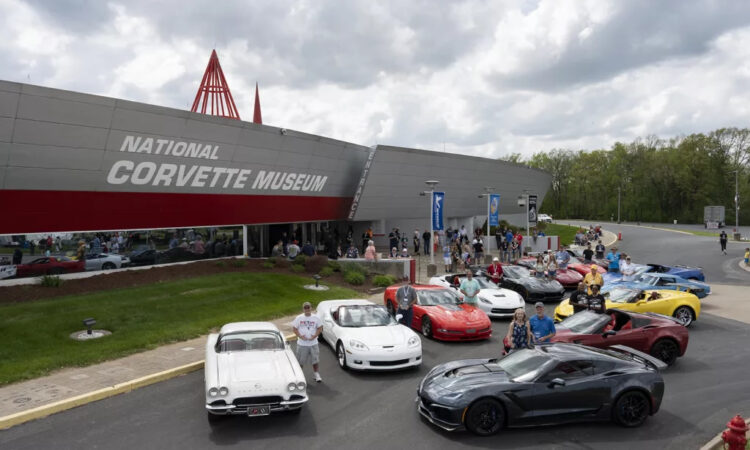 National Corvette Museum Celebrates 70 Years of Corvette With Groundbreaking Exhibit
(ROBBY BERRY/NATIONAL CORVETTE MUSEUM)
BOWLING GREEN – On Friday, while celebrating National Corvette Day, the National Corvette Museum unveiled a new exhibit that explores the history, passion, and special connection between America and its favorite sports car.
"An American Love Affair: 70 Years of Corvette," features an unprecedented collection of award-winning Corvettes from all around the country set against the backdrop of the region's first fully immersive, nearly 360-degree video wall that permits the guest to travel through time, experiencing the Heartbeat of America on the street and the ground-pounding sound of American thunder on the track.
"Since 1953, America has been captivated by the Corvette. This new exhibit explores the longstanding love-affair between Corvette owners and admirers through its mark on history," explained Sharon Brawner, National Corvette Museum President and CEO. "To celebrate this milestone, we had to take this exhibit to the next level, and the Skywall does just that. We cannot wait for our members and guests to experience this immersive experience for the first time."
 A journey through the exhibit will connect Corvette's relevance in society and pop culture over the past 70 years and features a spectacular collection of Corvettes that represent the vehicles history, from the all-new, electrified 2024 Corvette E-Ray to a National Corvette Restorers Society (NCRS) award-winning 1953 Corvette, serving as the perfect example of how the passion for Corvette began.
Other iconic Corvettes and artifacts that highlight the love affair between America and Corvette are on display throughout the Museum including, a collection of Corvette toys and models from the George Biederman Collection, Barbie Corvette toys, a Disneyland Autopia Car, and a display LT6 engine.