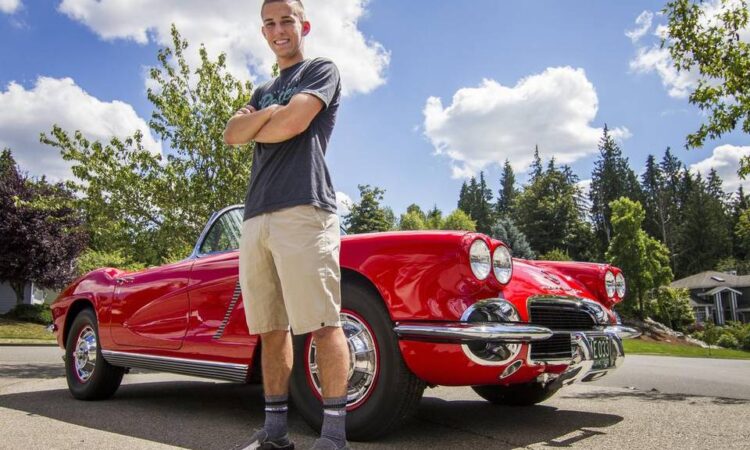 Grandfather's 1962 Corvette Holds a Special Place in his Grandson's Heart
These days, most teenagers get excited about Honda Civics and other small, low-slung imports. Corvettes are often thought of as a toy for an old guy going through a mid-life crisis. However, not so for one teenager from Puyallup, Washington.
When Blake Nelson was born, Paul "Papa" Gaetz made a promise to his grandson that one day, he would inherit his grandfather's pristine, 1962 Corvette. As Blake got older, his grandfather would pick up from elementary school in the Corvette and the two would often grab ice cream and cruise around Puyallup. To Blake, it wasn't like having a grandfather, but rather a best friend.
In 2009, Gaetz passed away from brain cancer; just six days before Blake's 10th birthday. The Corvette stayed parked up until six years ago when Blake's grandmother, Yvonne decided to move and Blakes parents took possession of the car.
Since then, Blake got involved playing sports in school just like most young boys do and the car sat covered in the family's garage. However, recently, Blake, now 17, acquired his driver's license. As a result, the 1962 Corvette that created all of those fond memories for Blake, slowly worked its way back into the forefront of his thoughts.
His parents basically told him he wouldn't be driving the car until he reached 40 years old, however they thinking of letting him take the car to his high school senior prom next year.
Before he can do that, he needs to learn how to drive a manual stick-shift, and overcome the heavy clutch that's mated to the 300 hp, 327ci V8 engine.
After all this time, the 1962 Corvette that his grandfather cherished has continued to have an emotional impact on Blake and keeps him connected to his granfather.
Blake plans on keeping the 1962 Corvette exactly how it is because that's how his grandfather would have wanted it.
Good for you Blake! You own a very special Corvette. Take good care of it, and it will take good care of you and provide you with endless miles of driving enjoyment!
Source: Corvette Action Center