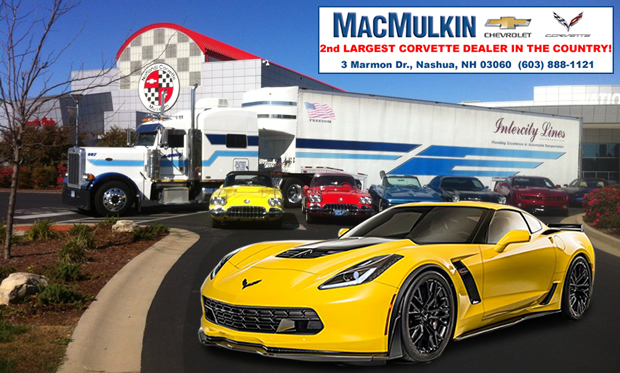 Let MacMulkin Corvette Arrange Your Corvette Shipment
One of the questions our Corvette Team occasionally receives is:  "why should I buy my Corvette from you and not my local dealer?"
Our first response is usually that we have some of, if not THE best pricing in the country and NO DEALER DOC FEES, but that isn't the whole story.
Your Corvette Order and Delivery
If you place an order for your Corvette through us, our team will work with you to arrange a Courtesy Delivery to a local Chevrolet dealer near you, or include the National Corvette Museum Delivery Experience as part of your order.
If you choose to do a Courtesy Delivery, we will arrange to have your new Corvette shipped from the Bowling Green Assembly Plant to a local Chevrolet dealership of your choosing.  Most dealerships charge a small fee ranging from $150 – $750 to do a Courtesy Delivery.  That dealership will be responsible for accepting your new Corvette from the factory, conducting the Pre-Delivery Inspection (PDI) and introducing your new Corvette to you.  The Courtesy Delivery fee is paid to that dealership and not MacMulkin Corvette.
If you choose to take delivery of your new Corvette at the National Corvette Museum, we encourage you to check out some of the Museum's various Delivery Programs.
Fully Enclosed Shipping
If you choose to purchase one of our in-stock Corvettes, we can facilitate shipping to you anywhere in the continental United States via fully enclosed trailers by one of the industry's top shipping companies!
Why Shop at MacMulkin Corvette?
Our Corvette Team strives to work closely with each and every customer in order to help them select the very best Corvette for them. With no hidden fees or dealer documentation fees, the prices you see on our extensive inventory, are the prices you pay!
If you order a new Corvette from us, we comfortably guide you through the entire process. Once you receive you're tracking number, you can check the status of your Corvette at any given time right here on our Corvette Tracking site.
If you purchase one of our in-stock Corvettes, we make the entire sales procedure from the paperwork process to the delivery process, as quick and easy as possible.
When you purchase your Corvette from us, you're not just becoming another Corvette owner; you're becoming a member of our Corvette family!
So what are you waiting for?  You can currently take advantage of:
1.  Special financing rates
2.  $1,000 Super Bonus Tag
AND…
3.  $2,000 Corvette Loyalty
Check out our Corvette specials before time runs out on 1-16-2017!