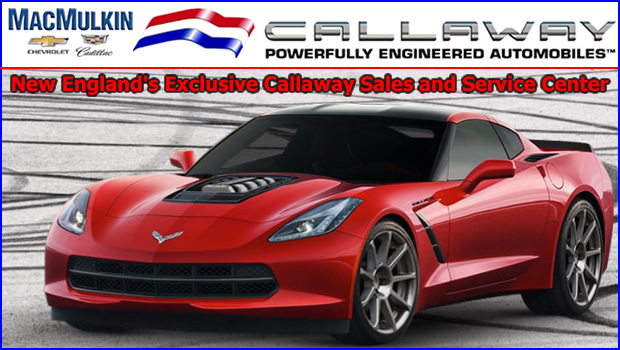 [PRESS RELEASE] MacMulkin Chevrolet Teams Up With Callaway Automobiles
MacMulkin Chevrolet in Nashua, New Hampshire Becomes One Of An Elite Group Of Callaway Dealers in America.
If you're passionate about performance and want more performance and prestige for your investment, then you want Callaway! These world class, limited production cars and trucks showcase Callaway's technological sophistication, artistry in design and unsurpassed craftsmanship.  Callaway Corvettes, Camaros and Sport Trucks are elite performance automobiles, sold and serviced only by Callaway Authorized Chevrolet Dealers, and MacMulkin Chevrolet is proud to be one of them.
As a Callaway Authorized Dealer, our sales and service staff is fully trained to provide you with a purchase and ownership experience that is on par with Callaway's upscale product quality. Our Sales Staff can explain all technical details of Callaway cars and trucks, and will "spec-out" the Chevrolet and Callaway equipment exactly to your liking. Our Service Department is fully equipped to perform all maintenance and warranty repair on all Callaway cars and trucks. If necessary, our direct line to Callaway Engineering can provide immediate response to unexpected service questions, should they arise.
Callaway has developed highly specialized components for Corvette, Camaro, Silverado, Suburban and Tahoe. As an exclusive New England dealer, MacMulkin Chevrolet is proud to offer the full line of Callaway vehicles to the entire United States.
We can order a new Chevrolet and have Callaway equip it with the performance package of your choice; select a Callaway from our extensive inventory; or have your current vehicle fitted with a Callaway package.
Looking for more performance than GM has to offer? Perhaps a Callaway performance package is the perfect solution for you!
About Callaway Automobiles
Founded in 1976, Callaway Cars Incorporated is recognized worldwide for its innovative automotive design, its winning race cars and its highly desirable, limited production sports cars. MacMulkin Chevrolet is proud to be a member of Callaway's network of specially selected Chevrolet dealerships, exclusively selling and servicing Callaway cars and trucks. Callaway Cars creates commercial value by providing driving enthusiasts with maximum satisfaction.
Callaway:  Powerfully Engineered Automobiles!
About MacMulkin Chevrolet
The MacMulkin Chevrolet Cadillac dealership, a member of the Thompson Group, is located in the New England Automotive Village, in Nashua, New Hampshire.
Serving customers in all 50 states as well as in Nashua and our neighboring communities, this family-owned and operated dealership of more than 50 years offers new and used cars, trucks, and SUVs, and is the nation's second largest Corvette dealer.
The facility showcases more than one acre of showrooms, reception area, sales and executive offices, technician training center and service write-up department. An Internet café, customer lounge area, children's play space, storage and parts/retail areas complete the expansive dealership.
MacMulkin Chevrolet Cadillac, 3 Marmon Drive, Nashua, New Hampshire.  Phone:  603-888-1121  Web Site:  http://www.MacMulkin.net
Press Materials
Callaway Corvette SC627 Product Bulletin
Callaway Camaro SC630 Product Bulletin
Callaway SportTruck Product Bulletin