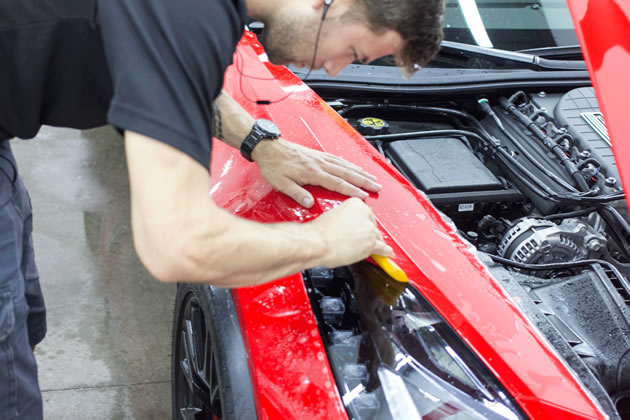 XPEL ULTIMATE Hand-Cut Film Protects Classic, Rare and Collectible Vehicles
Below is a press release by XPEL Technologies Corporation regarding their high quality paint protection film for new and vintage collectible automobiles. At MacMulkin Chevrolet, we recommend this incredible product for your new Corvette; especially the C7 Corvette Z06 with the wider fenders and extremely sticky tires that they come with. For more information and pricing options, please contact our Corvette Team at 603-888-1121!
Click on the photos below to see the damage that can occur on a C7 Corvette Z06: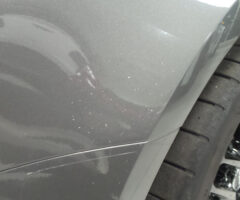 ---
PROTECT RARE VEHICLES WITH HAND-CUT XPEL ULTIMATE FILM
Optically Clear Self-Healing Film Protects Vintage Vehicles for Years
XPEL Press Release
SAN ANTONIO, Texas – Most classic car owners would go to extremes to protect their collectible vehicles, especially the paint.  XPEL™ ULTIMATE Paint Protection Film is a new, high tech way to protect classic vehicles from stone chips, scratches and abrasions. XPEL offers precut patterns for most late model vehicles, however, for classic and muscle cars, for which a pre-cut pattern doesn't exist, XPEL ULTIMATE film can be hand cut and applied by a skilled professional. The extremely rugged, self-healing XPEL ULTIMATE offers greater stretch than most paint protection films on the market today, making it the go-to paint protection film for uniquely shaped vehicles.
In truth, the paint on classic vehicles is often in greater danger of being inadvertently scratched or nicked than paint on a daily driver. That's because classic car owners often display their vehicles at car shows, which can require transporting the vehicle in a single open trailer or shipping the car via a specialty carrier that's moving multiple vehicles.   Plus, once the vehicle arrives at the event, damage can occur as multitudes of onlookers are leaning over it and brushing against it when admiring the vehicle's beauty.  The entire experience exposes rare vehicles to numerous opportunities for scratches, chips or dings to occur.
What's more, many valuable vehicles have undergone frame-up or rotisserie restorations, which are costly. Enthusiasts who invest to that extent in a vehicle's restoration can realize the biggest return by taking the final step in protection: applying paint protection film, not only to protect the finish, but also to prevent rust.
XPEL offers several types of paint protection films, ranging from headlight and door edge protection films to STEALTH protection film for matte finishes. For classic cars, however, XPEL's ULTIMATE is ideal. A virtually invisible urethane film, ULTIMATE features a clear coat and special elastomeric polymers that "heal" over time, so swirl marks and fine scratches are naturally eliminated.
"We designed ULTIMATE with a low surface energy, which enables it to shed contaminants such as road grime, air pollution, bird droppings and tree sap," said Ryan Pape, CEO, XPEL. "It's warrantied for 10 years, so this gives classic cars owners reassurance their vehicle will retain their gloss and clarity for many years."
For an experienced installer for your classic vehicle, contact XPEL to receive a recommendation for a professional installer in your area.
About XPEL Technologies Corp.
XPEL leads the industry in designing, manufacturing and distributing high-performance automotive paint and headlamp protection film technologies. Using XPEL's propriety software and patented materials, our professional design team develops products that deliver the ultimate in vehicle protection, meeting the demands of a broad range of makes and models. With more than 70,000 vehicle-specific applications and a global network of trained installers, XPEL is dedicated to exceeding customer expectations in providing high-quality products, customer service and technical support. XPEL Technologies Corp. (TSXV: DAP.U) is publicly traded on the TSXV Exchange.  Visit www.xpel.com for more information.
# # #