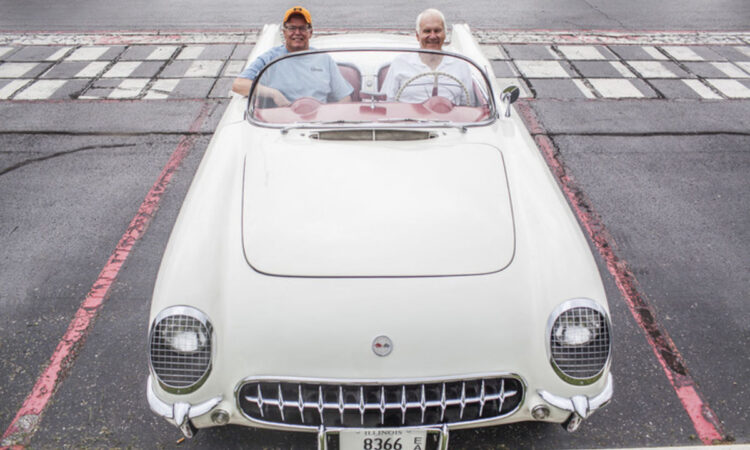 Man Reunited with his 1954 Corvette 30 Years After Selling It
Treasure hunt: Man is reunited with car 30 years after selling it
Simone Payne
Bowling Green Daily News
Until Sunday, it had been 30 years since Dick Webber had seen the 1954 Chevrolet Corvette he once owned.
Webber was reunited with the car – which was once displayed at General Motors' Bowling Green Assembly Plant after former Gov. John Y. Brown drove the first Bowling Green-built Corvette off the line in 1981 and parked it next to the '54 model – when current owners Scott and Elizabeth Rogers brought the Corvette to Bowling Green from North Aurora, Ill., to meet Webber and tour the National Corvette Museum.
"They cared enough to go through all the trouble of trailering that car all the way down here from Chicago just for me to enjoy, which just blows my mind," Webber said Monday, still ogling his old friend at the museum. "I drove it about 20 miles and it's fun. … It's nice for it to be back."
When Webber bought the car for $400 in 1967, it had four flat tires, no brakes, a busted transmission and a 1963 Chevrolet 425 HP 409 engine. He traded the engine and transmission for the installation of a six-cylinder engine and three-speed transmission, and by summer 1967 it became his daily driver. By 1970, he had accumulated enough original parts to properly restore the engine and transmission.
"This is a very rare car … and before the internet, (finding) parts really was a struggle," Webber said. "Everything about that car is just like a treasure hunt every time."
Full Story:  Treasure hunt: Man is reunited with car 30 years after selling it