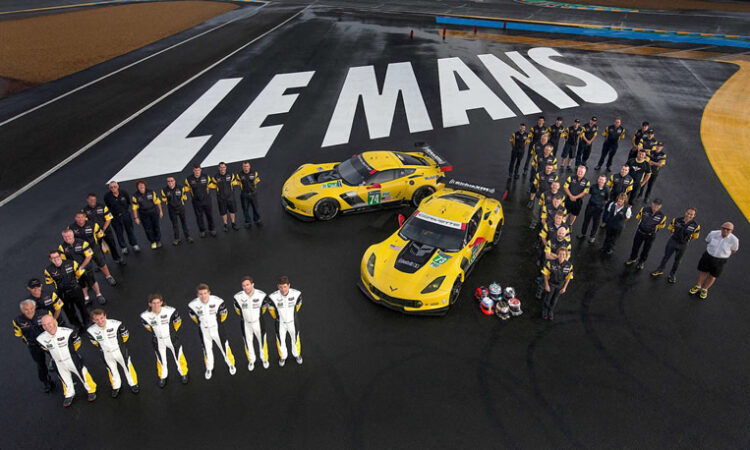 Corvette Racing at Le Mans: 24 Hours of in-car and garage streaming
Watch and ride along with both Corvette C7.R teams at Le Mans on FOX Sports GO
Le Mans, France – It's time again for Corvette Racing to tackle the 24 Hours of Le Mans in search of a ninth class victory. That also means Corvette fans throughout the United States can follow every lap, driver change and much more as FOX Sports GO will stream multiple Corvette Racing video feeds from the famous French endurance classic.
As in years past, Corvette Racing followers in the U.S. can watch in-car cameras for both the No. 63 and No. 64 Konica Minolta/Mobil 1/Sirius XM Chevrolet Corvette C7.Rs. In addition, a garage camera will capture pit stops throughout the race.
This year's Le Mans will see Corvette Racing attempt to win at Le Mans for the second straight year in GTE Pro. The team also has won the last five Triple Crown endurance events, having won the Rolex 24 At Daytona and Mobil 1 Twelve Hours of Sebring the last two years, in addition to Le Mans in 2015. At this year's 24 Hours, Corvette Racing will be up against other of the world's top production-based manufacturer teams, including many it races throughout North America in the IMSA WeatherTech SportsCar Championship.
"We are pleased to partner with FOX Sports for another year of live streaming Corvette Racing action from Le Mans," said Jeff Chew, Senior Manager, Strategic Planning and Operations for Chevrolet Racing. "This ranks as one of the most popular activities we do among our Corvette owners and fans. There will be plenty for them to watch as Corvette Racing races for a second consecutive Le Mans win and ninth in our history."
Antonio Garcia, Jan Magnussen and Ricky Taylor will drive the No. 63 Corvette C7.R while defending GTE Pro champions Oliver Gavin, Tommy Milner and Jordan Taylor partner in the No. 64 Corvette. Garcia was the fastest driver in class at the annual Test Day on June 5. With eight class victories at Le Mans since 2001, Corvette Racing and Chevrolet rank among the most successful teams and manufacturers to compete at Le Mans in the modern era.
Corvette Racing