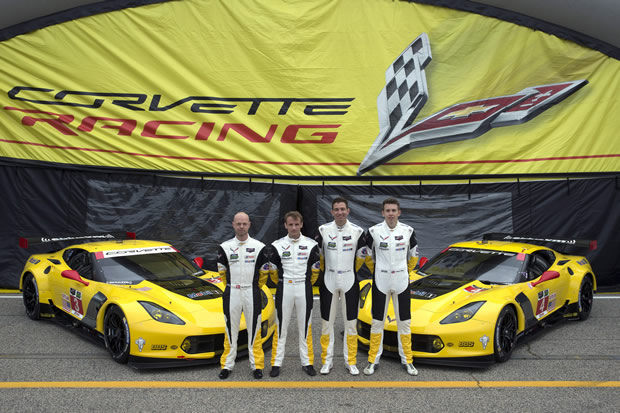 CORVETTE RACING AT LE MANS: Time to Take on the World Once Again
CORVETTE RACING AT LE MANS: Time to Take on the World Once Again
Corvette Racing Press Release
Pair of Chevrolet Corvette C7.Rs ready to go for ninth win at 24 Hours of Le Mans
Eight class wins in 16 races at Le Mans for sports car racing's top GT team
Garcia fastest on Test Day in No. 63 Corvette C7.R
Gavin, Milner, Taylor defending GTE Pro class winners in No. 64 Corvette
A Le Mans win would be No. 100 overall for Corvette Racing program
DETROIT (June 13, 2016) – A year ago, Corvette Racing stood on the top step of the podium after winning endurance racing's biggest event for the eighth time. It's
now another season and another chance for Corvette Racing to claim victory at the 24 Hours of Le Mans. Doing so will write another chapter in the team's and Chevrolet's racing
history.
This marks the 17th consecutive Le Mans for Corvette Racing, which enters the GTE Pro class with two Konica Minolta/Mobil 1/Sirius XM Chevrolet Corvette C7.Rs. There is momentum on
the team's side heading into a race that will be tougher than any previous season, given the number of teams and manufacturers in the class.
Consider the following:
Corvette Racing has won five straight Triple Crown events – the Rolex 24 At Daytona (2015, 2016), Mobil 1 Twelve Hours of Sebring (2015, 2016) and 24 Hours of Le Mans (2015). No
sports car team in any class can claim that feat.
Corvette Racing has 21 all-time victories in Triple Crown races.
Oliver Gavin, Tommy Milner and Jordan Taylor won last year's GTE Pro class at Le Mans by five laps in a race where their No. 64 Corvette was the team's lone entry following a
qualifying crash for the No. 63 car. All three drivers are back this year to defend.
Antonio Garcia set the fastest time in class during this year's Test Day in the No. 63 Corvette C7.R that he will share with Jan Magnussen and Ricky Taylor. The No. 64 Corvette
was fourth-quickest with Gavin at the wheel.
Not only are Corvette Racing and the Corvette C7.R proven commodities, so is the driving roster. The six drivers have 52 combined starts at Le Mans with 15 victories. Among them,
Gavin has five wins (all with Corvette Racing), Magnussen four (all with the team), Garcia three (two with Corvette Racing), Milner two (both with Corvette Racing) and Taylor's last
year.
Heading into Le Mans, Corvette Racing has 99 victories in program history. The team will be the first in IMSA and North America's highest levels of professional road racing to
accomplish that feat. Of note, nine different drivers have won at Le Mans for Corvette Racing throughout three different classifications and four models of Corvette race cars.
The competition this year in GTE Pro is full of familiar names. Many of the same teams and manufacturers that Corvette Racing will face also competed in IMSA's WeatherTech SportsCar
Championship. Gavin, Milner and the No. 4 Corvette C7.R lead the GT Le Mans (GTLM) Driver's and Team championships, as does Chevrolet in the Manufacturer standings through four races.
In addition, Jordan and Ricky Taylor have two overall victories for Wayne Taylor Racing in their Corvette Daytona Prototype and lead the Prototype Driver's Championship.
The Test Day was the first time the 2016-spec Corvette C7.R appeared at Le Mans, which meets this year's Automobile Club de l'Ouest regulations for top-level GT cars that compete in
both GTE Pro and the IMSA GTLM class. There are a number of aerodynamic changes from last year's car including a larger splitter at the front and diffuser at the rear of the Corvette.
Side skirts and a repositioned wing also are among the most notable changes, along with updated safety features that are now mandated on all GTE Pro and GTLM cars.
All of those facets along with Michelin tires specific to FIA World Endurance Championship competition have been the focus of Corvette Racing's on-track testing and engineering
preparations.
The Le Mans Test Day starts at 9 a.m. CET/3 a.m. ET on Sunday, May 31. The 83rd running of the Le Mans 24 Hours is set for 3 p.m. CET/9 a.m. ET on Saturday, June 13.
ANTONIO GARCIA, NO. 63 CHEVROLET CORVETTE C7.R: "The Test Day went very smooth and we ran through our program. We just need to go back and look at all the data;
there is a lot to go through and analyze. We have to do what we can to make the car stronger because all the other teams will do the same. It's probably the most important week of the
year for that. We've had years in the past where we have had a lot of cars. But this year is as tough as I can remember. The main thing is that no matter the other manufacturers, you
need to win. So I'm good with whoever comes second. I'm confident. As a team we won the first two big races of the year: Daytona and Sebring. So I'm hoping to repeat what we did last
year and win at Le Mans."
JAN MAGNUSSEN, NO. 63 CHEVROLET CORVETTE C7.R: "Le Mans is an event that really is unique. This is my 17th Le Mans and I don't think there is one that has been
the same as another. It is the nature of the race – the track, the weather and your competitors are all different each year. We are pretty satisfied following the Test Day. The Corvette
showed good speed over one lap but also we did a lot of work on long runs with our race setup. So I feel we are very prepared. The thing about Le Mans is that once you get to the race
there are so many variables that are out of your control and are difficult to account for. You have to trust the engineers, crew and your own abilities to make it through."
RICKY TAYLOR, NO. 63 CHEVROLET CORVETTE C7.R: "The following at Le Mans is huge for Corvette Racing. The fans are awesome over there. It's amazing how the
French people and fans from around the world love the roar and sight of the Corvette. For me, that's a lot of pressure to live up to. This team has a great legacy at Le Mans. Looking
forward, it's an opportunity to be with a winning team. Not often in your career do you get to do a race like this with a proper chance of winning. For me, this is a great opportunity
to be part of that."
OLIVER GAVIN, NO. 64 CHEVROLET CORVETTE C7.R: "You always have to look at every year somewhat fresh. We're going there with a new tire and aero package. That
will have a new spin on things and we'll have our eyes on that. It's a case that you always have to look at how the track develops and the weather conditions. We've had for quite some
time now some pretty cool and changeable races. We haven't had a really hot race for about 10 years now, and I think everyone is waiting for one of those to come along. I don't think
that wouldn't be a bad thing for us. That would suit our car and our setup. I don't think the turbo cars would have as much of an advantage on warm nights than they would if it were
cold."
TOMMY MILNER, NO. 64 CHEVROLET CORVETTE C7.R: "Having a good test with no mechanical issues makes race week that much less stressful. You can focus on the
details of the race, getting all three drivers cycled through and not worrying about finding extra speed. That's what we had last year. We had a Corvette that was comfortable and fast.
Jordan came in and was on-pace right away, which is obviously good. Going back there with the same driver lineup leaves us feeling pretty confident that we can achieve that
again."
JORDAN TAYLOR, NO. 64 CHEVROLET CORVETTE C7.R: "It's hard not to say the lasting image of last year's race is standing on the podium and looking at the crowd.
You get goosebumps just thinking about it, and then when you're actually able to see it, it's so surreal. When I was up there in the moment, it was hard to believe. I'm glad I took some
pictures and video of it because it all goes blurry when you're up there and that excited. Hopefully next time I'll be a little more relaxed where I can savor it a bit more. Le Mans is
the pinnacle in world sports car racing, and GTE Pro when you look at the field and the talent, every single car can win. When you're looking at something like that, it's intense and
everyone has be on their game. There can be no mistakes."
DOUG FEHAN, CORVETTE RACING PROGRAM MANAGER: "Our Test Day experience demonstrated the proficiency of our engineering staff, the dedication of our powertrain
guys and the implementation capabilities of our our crew. Now they are all facing a new challenge as we excitedly approach two days of qualifying. There is a reason we have won here
eight times: we operate as a unified team that focuses on winning regardless of the odds. This has the potential to be the hardest-fought GT race in Le Mans history and we at Corvette
Racing, along with all our fans, can't wait for that green flag to drop!"
Le Mans 24 Hours (times in Central European and Eastern Daylight)
Practice/qualifying: 4-8 p.m. (practice), 10 p.m.-midnight CET (qualifying), Wednesday, June 15
100 a.m.-2 p.m. (practice), 4-6 p.m. ET (qualifying)
Qualifying: 7-9 p.m., 10 p.m.-midnight CET, Thursday, June 16
1-3 p.m., 4-6 p.m. ET
Warm-up: 9-9:45 a.m. CET, Saturday, June 18
3-3:45 a.m. ET
Race: 3 p.m. Saturday-3 p.m. CET, Sunday, June 18
9 a.m. Saturday-9 a.m. ET, Sunday
Le Mans: Watch It! (Saturday, June 18-Sunday, June 19 – all times ET)
8:30 a.m. Saturday-2:00 p.m. Sunday (FOX Sports 1)
2:00-4:30 p.m., Saturday (FOX Sports 2)
6-6:30 p.m., Saturday (FOX Sports 2)
7-7:30 p.m., Saturday (FOX Sports 2)
10:30 p.m., Saturday-2:30 a.m., Sunday (FOX Sports 2)
2:30-9:30 a.m., Sunday (FOX Sports 1)
The full race will be streamed on FOX Sports GO
Corvette Racing 24 Hours of Le Mans Record
| | | | | |
| --- | --- | --- | --- | --- |
| Year | Finish | Class | Car | Drivers |
| 2000 | 3rd | GTS | Corvette C5-R | Pilgrim/Collins/Freon |
| | 4th | GTS | Corvette C5-R | Fellows/Kneifel/Bell |
| 2001 | 1st | GTS | Corvette C5-R | Fellows/O'Connell/Pruett |
| | 2nd | GTS | Corvette C5-R | Pilgrim/Collins/Freon |
| 2002 | 1st | GTS | Corvette C5-R | Fellows/O'Connell/Gavin |
| | 2nd | GTS | Corvette C5-R | Pilgrim/Collins/Freon |
| 2003 | 2nd | GTS | Corvette C5-R | Gavin/Collins/Pilgrim |
| | 3rd | GTS | Corvette C5-R | Fellows/O'Connell/Freon |
| 2004 | 1st | GTS | Corvette C5-R | Gavin/Beretta/Magnussen |
| | 2nd | GTS | Corvette C5-R | Fellows/O'Connell/ Papis |
| 2005 | 1st | GT1 | Corvette C6.R | Beretta/Gavin/Magnussen |
| | 2nd | GT1 | Corvette C6.R | Fellows/O'Connell/Papis |
| 2006 | 1st | GT1 | Corvette C6.R | Beretta/Gavin/Magnussen |
| | 7th | GT1 | Corvette C6.R | Fellows/O'Connell/Papis |
| 2007 | 2nd | GT1 | Corvette C6.R | Fellows/O'Connell/Magnussen |
| | 14th | GT1 | Corvette C6.R | Beretta/Gavin/Papis |
| 2008 | 2nd | GT1 | Corvette C6.R | Fellows/O'Connell/Magnussen |
| | 3rd | GT1 | Corvette C6.R | Beretta/Gavin/Papis |
| 2009 | 1st | GT1 | Corvette C6.R | O'Connell/Magnussen/Garcia |
| | 4th | GT1 | Corvette C6.R | Gavin/Beretta/Fassler |
| 2010 | 10th (DNF) | GT2 | Corvette C6.R | Gavin/Beretta/Collard |
| | 12th (DNF) | GT2 | Corvette C6.R | O'Connell/Magnussen/Garcia |
| 2011 | 1st | GTE Pro | Corvette C6.R | Beretta/Milner/Garcia |
| | 14th (DNF) | GTE Pro | Corvette C6.R | Gavin/Magnussen/Westbrook |
| 2012 | 5th | GTE Pro | Corvette C6.R | Garcia/Magnussen/Taylor |
| | 6th | GTE Pro | Corvette C6.R | Gavin/Milner/Westbrook |
| 2013 | 4th | GTE Pro | Corvette C6.R | Garcia/Magnussen/Taylor |
| | 7th | GTE Pro | Corvette C6.R | Gavin/Milner/Westbrook |
| 2014 | 2nd | GTE Pro | Corvette C7.R | Garcia/Magnussen/Taylor |
| | 4th | GTE Pro | Corvette C7.R | Gavin/Milner/Westbrook |
| 2015 | DNS | GTE Pro | Corvette C7.R | Garcia/Magnussen/Briscoe |
| | 1st | GTE Pro | Corvette C7.R | Gavin/Milner/Taylor |
| Totals | 8 wins | 16 starts | | |