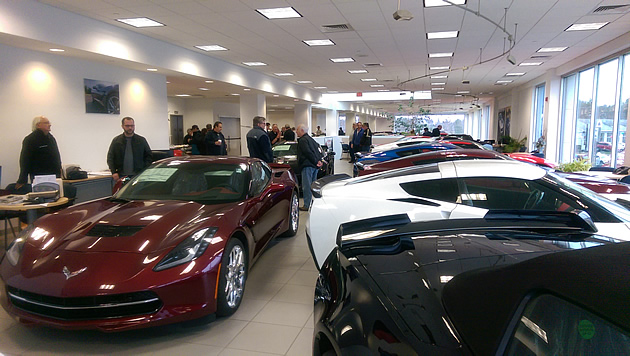 GM's Retail Sales Rise for 12th Consecutive Month Driven by Chevrolet, Buick and GMC
Chevrolet sold 3,142 Corvettes last month as compared to 3,469 for the month of April 2015. That is a 9.4% decrease from last year. From January to April of this year, there has been a total of 9,512 Corvette sales as compared to 11,986 Corvette sales for the same period last year. That comes to a -20.6% decrease in sales since last year.
With the introduction of the 2017 Corvette Grand Sport, nicely slotted in between the base model Corvette Stingray and the Corvette Z06, we're confident that Corvette sales will again pick up with a lot of interest that we've seen in this new model at MacMulkin Chevrolet!
---
2016-05-03
GM Press Release
Chevrolet remains the industry's fastest-growing full-line brand of 2016 with retail sales up 4 percent in April
Buick's retail sales up 13 percent; GMC retail sales up 5 percent
Commercial deliveries up for 30th consecutive month
Daily rental deliveries down nearly 18,000 units, or 39 percent  
DETROIT – General Motors (NYSE: GM) delivered 200,656 vehicles in April to individual or "retail" customers, up 3 percent year-over-year, driven by an 13 percent increase at Buick, 5 percent increase at GMC and a 4 percent increase at Chevrolet. GM's Commercial deliveries were up for the 30th consecutive month while daily rental sales were down nearly 18,000 vehicles. GM total sales were down about 4 percent to 259,557 vehicles.
GM has grown retail deliveries year-over-year every month since April 2015 and retail sales during the last 12 months were up 9 percent, more than double the industry's 4 percent increase during that timeframe. Chevrolet was the fastest-growing full-line franchise in the U.S. industry in 2015 and holds that honor again so far this year, based on R.L. Polk retail registrations. Chevrolet had its best April for retail sales since 2006.
Through the first four months of the year, Chevrolet retail sales are up 9 percent. The all-new Malibu is having a major impact, with retail deliveries up 53 percent year to date and 45 percent in April. According to J.D. Power PIN, Malibu has nearly doubled its retail share from 5 percent in 2015 to 10 percent year to date. In addition, the new Cruze is beginning to arrive in dealers showrooms.
Buick has grown retail registrations faster this year than all but one other major brand, according to R.L. Polk, and posted a 13 percent year-over-year gain in April. Year to date, Buick retail deliveries are up 10 percent.
"GM's retail growth over the last 12 months has outpaced the industry by a wide margin because our redesigned large pickups and SUVs are hits, we made smart investments in new segments like small crossovers and mid-size pickups, and our momentum in the car business is accelerating with each new model introduction," said Kurt McNeil, U.S. vice president of Sales Operations. "GM bucked the industry trend with flat year-over incentives, we are managing with lean inventories and our Commercial and Government fleet business is growing."
Looking ahead to May, GM expects to continue executing its retail-focused sales plan, and maintain disciplined inventories and incentives. The company's deliveries to daily rental customers, which are less profitable than retail deliveries, are expected to be down approximately 18,000 to 20,000 units, year over year, which will make May the largest single-month decline of 2015-2016. Calendar year to date through April, GM's rental deliveries are down more than 61,000 units from a year ago, as planned.
April Retail Sales and Business Highlights vs. 2015 (except as noted)
Chevrolet
The brand had its best retail April since 2006.
Car sales were up 4 percent, with the Camaro up 13 percent, Malibu up 45 percent, Spark up 2 percent and Volt up 139 percent.
Truck sales were up 19 percent, with the Colorado up 55 percent, Silverado up 14 percent, Suburban up 16 percent and Tahoe up 8 percent.
The Trax crossover was up 46 percent.
Malibu has its best year-to-date sales since 1980.
Silverado had its best April since 2006.
Tahoe and Suburban had their best year-to-date sales since 2008.
Colorado had its best month since launch of the all-new model.
GMC
The brand had its best April since 2004.
The Sierra had its best April ever, with deliveries up 14 percent, the Canyon was up 23 percent, and the Yukon had its 8th consecutive month of year-over-year growth, with deliveries up 13 percent. Yukon XL was up 8 percent.
Buick
The brand had its best April and calendar-year-to-date sales since 2005
The Encore was up 39 percent, Enclave up 2 percent
Buick sold 1,090 Cascada convertibles in April, the second full month in the market.
 
Cadillac
Cadillac ATPs were $54,600 in April, up approximately $1,600 from last year.
The Cadillac ATS, CTS and XTS all gained year-over-year retail market share in their respective segments.
Average Transaction Prices (ATP)/Incentives (J.D. Power PIN estimates)
GM's ATPs, which reflect retail transaction prices after sales incentives, were $35,400 in April, more than $4,200 above the industry average.
GM's incentive spending as a percentage of ATPs was 10.3 percent in April, well below domestic and many Asian competitors and in line with the industry average of 10.2 percent.
The industry increased incentives year over year by 0.7 percentage points, while GM incentives were in-line with a year ago.
GM's fleet mix in April was approximately 23 percent of total sales, in line with the company's full-year guidance of 20 percent.
Commercial sales grew 4 percent, for the best Commercial month since 2008. Government sales were up 21 percent and daily rental deliveries were down 39 percent.
Small business deliveries were up 20 percent in April and 10 percent calendar-year-to-date.
Industry Sales
GM estimates that the seasonally adjusted annual selling rate (SAAR) for light vehicles in April was 17.6 million units. On a calendar-year-to-date basis, GM estimates the light vehicle SAAR was 17.4 million units.
General Motors Co. (NYSE:GM, TSX: GMM) and its partners produce vehicles in 30 countries, and the company has leadership positions in the world's largest and fastest-growing automotive markets. GM, its subsidiaries and joint venture entities sell vehicles under the Chevrolet, Cadillac, Baojun, Buick, GMC, Holden, Jiefang, Opel, Vauxhall and Wuling brands. More information on the company and its subsidiaries, including OnStar, a global leader in vehicle safety, security and information services, can be found at http://www.gm.com