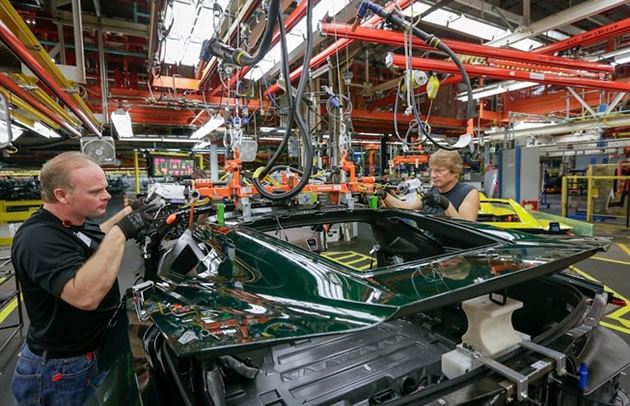 National Corvette Museum To Lead GM Bowling Green Assembly Plant Tours
The National Corvette Museum, a 501 (c)(3) educational nonprofit, has assumed the responsibility of managing public tours of the General Motors Bowling Green Corvette Assembly Plant and the transition will take place over the next few weeks.
As part of the change, tours will be available every 15 minutes beginning at 8:30am CT with the last tour departing at 1:45pm CT. Ticket prices have changed to $10 for adults and $5 for youth age 10-16. A discounted combo ticket can be purchased for the Plant and Museum for only $16 (a savings of $4).
Tickets for plant tours can be purchased online at www.corvetteplanttours.com or on-site at the Museum or Plant. Discounted combo tickets can also be purchased online or at either location. Online tickets must be purchased at least 24-hours in advance of your tour time. Tour tickets are limited, and reservations are highly recommended. Visitors are encouraged to check in advance for any closures.
Plant tours are available weekdays and typically last one hour. The walking tour is one-mile and no cell phones, cameras, crutches, purses, backpacks or electronic devices are allowed. Closed toe and closed heel shoes are required. Wheelchairs are available at no cost but are first come, first serve.
"We are in the business to build cars," said GM Bowling Green Assembly Plant Manager Kai Spande. "The National Corvette Museum is in the hospitality and tourism business and currently lead a number of tour programs in the plant, including R8C Museum Delivery, Experience, VIP Tours, Photo Albums and Buyers' Tours. It was only fitting to add the public tour program to their list of offerings."
For a list of plant closings and blackout dates visit www.corvetteplanttours.com.
Source: National Corvette Museum.