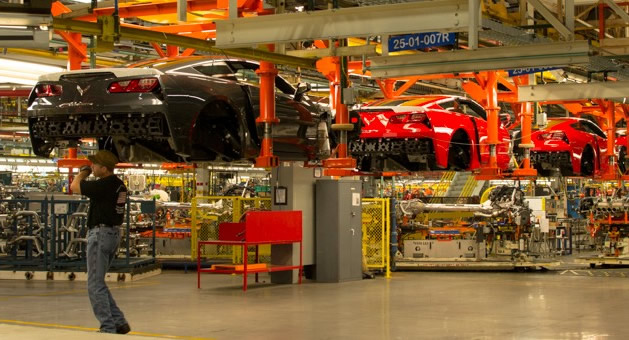 2018 Corvette Orders to End in November – 2019 Orders to Begin
Last night, news broke that GM would stop taking orders on 2018 Corvettes at the end of November and start accepting orders for the 2019 model year.
We reached out to our source for verification.  Below is the response we received:
"The 19MY order guide will be published 11/20, and the first DOSP will be 11/30 (Nov cycle 2).

Final consensus for 18MY will be Nov cycle 1 and final DOSP will be 11/16."
For those who don't know, "DOSP" stands for Dealer Order Submission Process and is the weekly order cycle.
Consensus:  Twice a month GM loads their "Estimated Shipments" into the GM's order workbench system and determines how many of each product a dealer has "earned".  Based on a "snapshot" of their inventory, they consider their "adjusted day supply" (ADS) to the national ADS. The dealer then reviews the estimated shipments and enters their 3 month forecast and requested quantities and submit to GM. Unless GM has more capacity at a factory than dealers request, the dealer is limited to what allocation they are assigned. Dealers can turn down allocation, and those units go to dealers that have requested more than GM estimated for them.
Final consensus is the amount of product the dealer gets after GM has reviewed their requested quantities.
GM basically uses a four step ordering process:
1. Constraints Distribution – Dealers are informed on constraints to review before placing orders.
2. Dealer Order Submission (DOSP) – Dealers can order on Thursday, Friday or no later than midnight on Saturday.  (You can submit orders earlier but you don't know the constraints. A Constraint is a limit placed on a specific build configuration).
3. The 4-Pass Process – GM will attempt to place each dealers orders on Mondays using a 4-Pass process.  (At this point a dealer may get more or less than was allocated if they asked).
4. Dealer Review-You can review your placed orders for changes or replacements until Tuesday at 9pm ET. That's when the orders are sent for production.
We have been able to confirm that there will be no major changes to the 2019MY Corvette, so if dealers can't get their 2018 orders in on time, they would just be 2019 orders with the exact same equipment.  The only issue here is that if you're hoping to get a 2018 Carbon 65 Edition – you have to get your order in ASAP as the Carbon 65 Edition is a 2018 model only.
So the big question on everyone's mind is why is GM doing this?
We were able to confirm that there were some electrical components that needed to be changed over as well as a change to a new Mobil 1 oil as factory fill, and it was decided to initiate these changes early and conduct a model year break. Again, these changes are nothing that would be apparent to the customer.  The new factory fill will be 0-40 oil available January 18th and is backwards compatible with older models.
Why the change to a different oil?  Right now, GM recommends that if you're going to track your C7 Corvette, it's best to switch to 15-50.  With the new 0-40 factory fill, you won't have to switch oil
Update 1:
We have learned that the expected start of retail production of the 2019 Corvette will be January 29th.
So, there you have it folks.  If any additional information becomes available to us, we'll update this article.