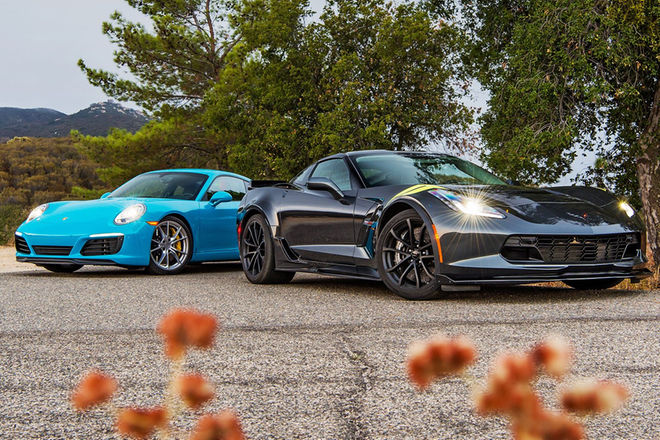 A 2017 Corvette Grand Sport or a Porsche 911 Carrera S? You Decide!
The Corvette and Porsche have been going head to head for decades now and usually the Porsche has always come out on top in one form or another.  That long reign of power and handling over the Corvette may have just come to a final end.
Motor Trend recently pitted the 2017 Corvette Grand Sport against Porsche's new 911 Carrera S and the results were, well, interesting.
Watch the video below:
Had the Grand Sport been comparably equipped with the 8-speed paddle shift automatic transmission as the Porsche was with its PDK paddle shift transmission, we can't help but wonder if the difference in 0-60 mph times would have been much closer.
Regardless, the Corvette killed the Porsche in braking and handling.
"This Grand Sport instills confidence and it's the best C7 Corvette to date."
On the Willow Springs Raceway with professional driver, Randy Pobst behind the wheel:
"Great balance between handling, grip and horsepower. The Grand Sport feels just right.  I can trust this car under acceleration."
Conclusion? Better performance and more fun to drive!
The best part?  PRICE!  In order to step into a brand new Porsche 911 Carrera S, you better be willing to cough up at least $112,000.  That $112,000 includes the following:
PASM Sports Suspension: $890
Sports Exhaust System: $2,950
4-Way Sport Seats Plus: $440
Auto-Dimming Mirrors: $420
For a comparably equipped Grand Sport like the one tested by Motor Trend, you're looking at $79,690 which includes the following:
2LT GS 2LT PREFERRED EQUIPMENT GROUP: $4,455.00
Z07 Z07 PERFORMANCE PACKAGE: $7,995.00
Z15 GRAND SPORT HERITAGE PACKAGE: $795.00
That's a savings of $32,310 and the Grand Sport already comes with a track tuned suspension, 6-way power seats (8-way power seats with the 2LT trim pkg), the Performance Exhaust System, auto dimming mirrors and an interior designed after Aston Martin!
At MacMulkin Corvette, we have over fifty 2017 Corvette Grand Sports to choose from ranging from low optioned models to fully optioned luxury track monsters at the best prices in the country.
Click on the links below to view our current C7 Corvette Grand Sport Inventory, or give our Corvette Team a call at 603-888-1121!