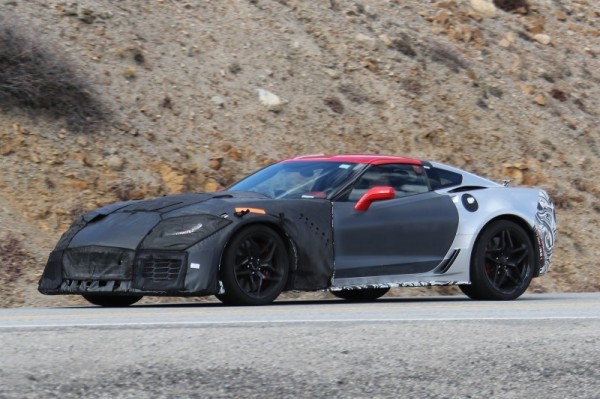 SPIED! 2018 Chevrolet Corvette ZR1 Spied Testing with Aggressive Styling
Once again, spies have captured the 2018 Chevrolet Corvette ZR1 testing in the field Monday, giving us an early look at what appears to be some aggressive styling on tap.
This particular mule appears to retain the Z06's side ventilation and rear brake cooling ducts, however whether or not those are kept for the ZR1 remains to be seen.  What we also see missing is the large rear wing on the back that we've previously seen in spy shots.
What's interesting to note is that this mule also has the gray primered doors and b-pillar behind the removable roof panel.  It's our belief here at the Corvette Action Center, that this is a strong indication that GM will be integrating more extensive use of carbon fiber into the ZR1 in order to keep curb weight from creeping up.
Power is expected to come from a more robust version of the Z06's supercharged V8 developing around 700 – 725 horsepower. Interestingly, all of it will be routed through a manual gearbox. It's unclear at this point whether we'll see an automatic transmission or not.
The 2018 ZR1 will be out sometime next year to soldier on for a few years until the next-gen Corvette comes along.
Head over to LeftLane News for more photos!
If you'd like to get put on our waiting list for a 2018 Corvette, contact us!