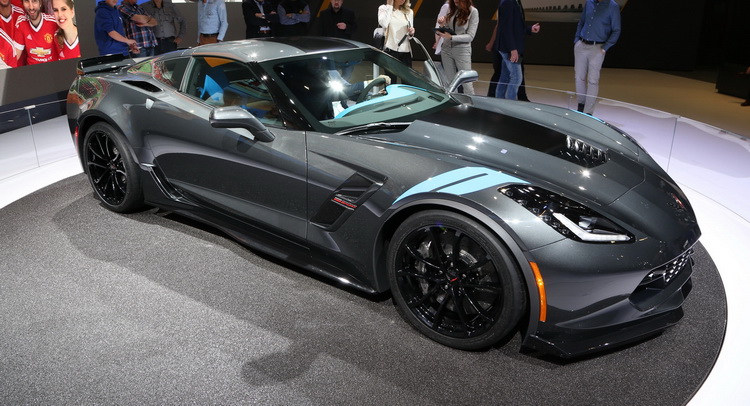 MacMulkin Corvette Announces Allocation for Sixteen 2017 Corvette Grand Sport Collector Editions
MacMulkin Corvette is pleased to announce that we have open allocation for sixteen 2017 Corvette Grand Sport Collector Editions!  With three sold orders already placed, we can order thirteen more!
Grand Sport Collector Edition
The Grand Sport Collector Edition features an exclusive Watkins Glen Gray Metallic exterior with Tension Blue hash-mark graphics, satin black full-length stripes, black wheels and a unique Tension Blue full leather and suede-wrapped interior.
The Tension Blue color is a bold, modern take on the hue historically associated with the Grand Sport. Inside, a three-dimensional representation of an original Grand Sport race car is embossed in the headrests and that shape is also used on an instrument panel plaque that carries a unique build sequence number.
Only 1,000 Collector Editions will be built, with only 850 slated for United States consumption.
If you'd like to grab one of these limited edition Corvettes, contact our Corvette Team now at 603-888-1121, or contact us with the options you're looking for and we'll be happy to put together a build for you!
Why Shop at MacMulkin Corvette?
Our Corvette Team strives to work closely with each and every customer in order to help them select the very best Corvette for them. With no hidden fees or dealer documentation fees, the prices you see on our extensive inventory, are the prices you pay!
If you order a new Corvette from us, we comfortably guide you through the entire process. Once you receive you're tracking number, you can check the status of your Corvette at any given time right here on our Corvette Tracking site.
If you purchase one of our in-stock Corvettes, we make the entire sales procedure from the paperwork process to the delivery process, as quick and easy as possible.
When you purchase your Corvette from us, you're not just becoming another Corvette owner; you're becoming a member of our Corvette family!