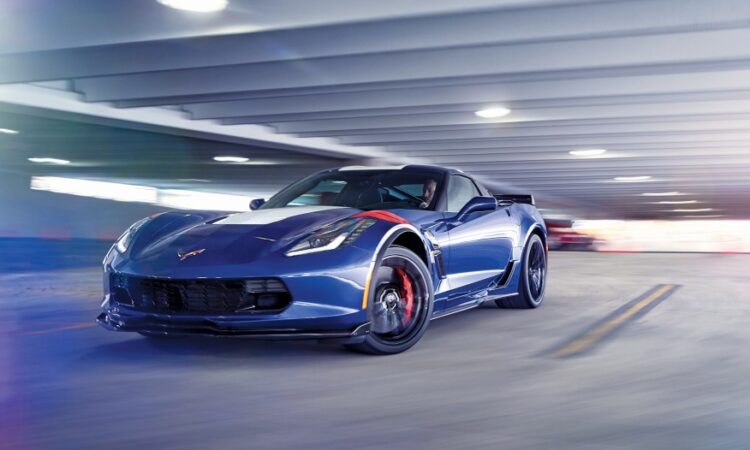 Car and Driver Gets Exclusive First Drive: 2017 Chevrolet Corvette Grand Sport!
2017 Chevrolet Corvette Grand Sport
Once a race car, then a special edition, the Grand Sport has become the Corvette's top-selling trim. After a drive in the C7 version, we understand why.
Jun 2016 By DANIEL PUND – Car and Driver Magazine
The 2017 Chevrolet Corvette Grand Sport is probably not what you think it is.
It's certainly not a ferocious factory racing machine, as the first blistered and vented Grand Sport was in 1963. And it's not the wrapper in which a new version of the Chevy small-block V-8 is presented. That was true of the 1996 Grand Sport, the vehicle first to bear the LT4 engine that stoked the embers at the end of the C4's life. One look at the new GS's muscled glutes and you'll know it's something more than just a trim and paint job, but, despite the sincere wishes of some on our staff, it is not the long-awaited mid-engined Corvette.
Tadge Juechter, Corvette chief engineer and our right-seat companion for part of our first drive of the Grand Sport, puts the new car in a slightly different perspective. "This is big business for us," he says. "The last Grand Sport [of the C6 generation] kept the Bowling Green plant running. It was our highest-volume model."
Sports-car buyers are more fickle than most. Sales are hot when a new model arrives, as they certainly have been for the C7 Stingray, but then they typically go tumbling off a cliff after a few years. With its long history, the Corvette hasn't necessarily suffered as much as newcomers in this cycle of boom-and-bust because enough Americans have grown up with the unwavering desire to someday buy a Corvette—not the newest sports car, but a ­Corvette specifically.
Still, adding a hot, updated version a couple of years into a product's life is never a bad idea. For whatever the Grand Sport once was, it is now a full-fledged model within the Corvette lineup. And like the C6 version of the GS—as with a number of Porsche 911 variations and almost all Taco Bell menu items—the new car is an assemblage of known parts.
This particular concoction starts with the Stingray's drivetrain, the naturally aspirated LT1 6.2-liter V-8, but fitted as standard here with the dual-mode exhaust system that's optional on the base Stingray, plus the dry-sump arrangement of the Z51 version. It produces the same 460 horsepower at 6000 rpm and 465 pound-feet of torque at 4600 rpm. This level of output is what Rolls-Royce used to refer to, in typical winking understatement, as "adequate."
It is only in a world where less than $100,000 can buy you a factory-warrantied 600- or 700-hp car that 460 sounds unimpressive. Have you ever tried to fully exploit 650 horsepower on the street for anything more than a fleeting moment? If so, are you currently reading this story from the comfort of the prison rec room?
Full Story: EXCLUSIVE FIRST DRIVE: 2017 Chevrolet Corvette Grand Sport!